Bark and Ride
Founded in June 2011 by ARRI Shelter Manager Jennifer Gebar,  the Bark & Ride program saves and transports animals to our no-kill shelter from high-kill facilities in the southern United States.  To date, we have saved over 1,000 animals that would have otherwise been euthanized.
Through the invaluable assistance of an intricate network of animal welfare advocates along the East Coast, these innocent creatures make the long journey from states such as North & South Carolina, where they are then greeted with open arms by our organization.  We show them the love and care they deserve, while we work to adopt them into forever families here in New England.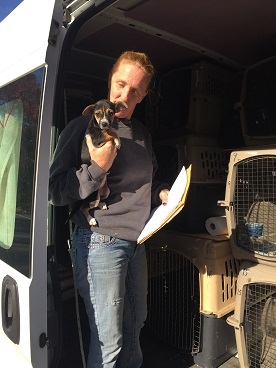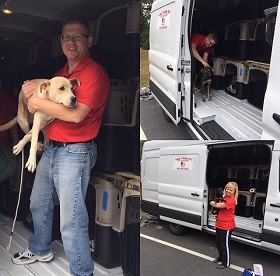 Why does Bark & Ride focus on the South?
A lack of spay/neuter laws, combined with a cultural belief that pets be kept outside, results in unwanted animals. Shelters are inundated with strays and are forced to euthanize.
What does "high-kill" mean?
It means that facilities euthanize healthy and adoptable animals quickly due to lack of space. In many cases, strays are given a maximum of five days, while owner-surrendered pets are sometimes only afforded 24 hours.
——————————————————————————————————————-
Bark & Ride is 100% funded by the continued generosity of compassionate donors. If you would like to make a tax-deductible contribution to this life-saving program, please use the secure link below:

Alternatively, you can kindly mail a check made payable to:
Animal Rescue Rhode Island
PO Box 458
Wakefield, RI 02880
Please write 'Bark & Ride' in the memo field.
From all of us at Animal Rescue Rhode Island, we thank you for assisting us in our mission.
###
Founded in 1938, Animal Rescue Rhode Island is a no-kill 501(c)(3) organization committed to the humane welfare and well-being of animals in need.  It rescues abandoned, abused, and surrendered animals without geographic limitation.  It is solely funded and operated by individual donations, and receives no federal, state, or local government funding.